Classifica USA aprile 2019: la Marvel supera il 50% dei fumetti venduti
Diamond Comics ha diffuso i dati delle vendite dei fumetti di aprile 2019. Come sempre, tali dati sono indicativi e riguardano i canali di vendita serviti da Diamond, che comunque copre una fetta del mercato americano così consistente da rappresentare un indice abbastanza preciso delle vendite e del consumo fumettistico d'oltreoceano.
L'esordio dell'evento War of the Realms della Marvel conquista il primo posto in classifica, con la Casa delle Idee che piazza ben 6 fumetti in top ten. I restanti 4 sono della DC che con il terzo posto di The Batman Who Laughs #4 conquista la sua posizione più alta.
Più equilibrata la situazione nella top ten dei graphic novel dopo la Image piazza al primo posto The Magic Order e conquista 3 posizioni su 10, così come la Marvel. DC e Dark Horse, invece, si spartiscono equamente gli altri 4 posti.
Il dato soprendente sorprendente è che la Marvel ha superato il 50% di fumetti venduti, con un ricavo del 45,50% del totale. La DC Comics si è classificata seconda con una quota del 24,73% e un ricavo del 25,89%, seguita da Image e IDW. Da considerare, comunque, che la Marvel ha pubblicato il doppio dei titoli rispetto alla DC.
Di seguito trovate tutte le classifiche nel dettaglio.
TOP COMIC BOOK PUBLISHERS
RETAIL MARKET SHARE
PUBLISHER
SHARE
MARVEL COMICS
45.50%
DC COMICS
25.73%
IMAGE COMICS
7.93%
IDW PUBLISHING
3.26%
DARK HORSE COMICS
2.89%
BOOM! STUDIOS
2.46%
DYNAMITE ENTERTAINMENT
1.71%
VIZ MEDIA
1.07%
VALIANT ENTERTAINMENT
0.76%
AFTERSHOCK COMICS
0.70%
OTHER NON-TOP 10
7.99%

UNIT MARKET SHARE
PUBLISHER
SHARE
MARVEL COMICS
50.70%
DC COMICS
25.89%
IMAGE COMICS
7.60%
IDW PUBLISHING
2.76%
BOOM! STUDIOS
2.75%
DARK HORSE COMICS
1.92%
DYNAMITE ENTERTAINMENT
1.53%
VALIANT ENTERTAINMENT
0.91%
AFTERSHOCK COMICS
0.71%
ARCHIE COMICS
0.55%
OTHER NON-TOP 10
4.68%
COMPARATIVE SALES STATISTICS
DOLLARS
UNITS
APRIL 2019 VS. MARCH 2019
COMICS
-11.12%
0.07%
GRAPHIC NOVELS
-19.02%
-27.69%
TOTAL COMICS/GN
-13.26%
-2.22%
TOYS
-11.38%
-8.24%
APRIL 2019 VS. APRIL 2018
COMICS
-14.67%
-13.92%
GRAPHIC NOVELS
-25.37%
-31.39%
TOTAL COMICS/GN
-17.65%
-15.24%
TOYS
15.41%
18.74%
YEAR TO DATE 2019 VS. YEAR TO DATE 2018
COMICS
1.83%
-5.35%
GRAPHIC NOVELS
-3.18%
-6.11%
TOTAL COMICS/GN
0.41%
-5.40%
TOYS
19.14%
27.48%
NEW TITLES SHIPPED
PUBLISHER
COMICS
SHIPPED
GRAPHIC NOVELS
SHIPPED
MAGAZINES
SHIPPED
TOTAL
SHIPPED
MARVEL COMICS
106
37
0
143
DC COMICS
52
32
1
85
IMAGE COMICS
47
13
0
60
IDW PUBLISHING
32
9
0
41
BOOM! STUDIOS
20
11
0
31
DARK HORSE COMICS
19
7
0
26
YEN PRESS
0
24
0
24
DYNAMITE
16
4
0
20
AFTERSHOCK COMICS
11
4
0
15
VALIANT ENTERTAINMENT LLC
9
1
0
10
OTHER
101
133
18
252
TOTAL
413
275
19
707
TOP 10 COMIC BOOKS BY UNITS SHIPPED
| | | | | |
| --- | --- | --- | --- | --- |
| RANK | DESCRIPTION | PRICE | ITEM CODE | VENDOR |
| 1 | WAR OF THE REALMS #1 | $5.99 | JAN190870-M | MAR |
| 2 | SYMBIOTE SPIDER-MAN #1 | $4.99 | FEB190822-M | MAR |
| 3 | THE BATMAN WHO LAUGHS #4 | $4.99 | FEB190484-M | DC |
| 4 | THE IMMORTAL HULK #16 | $3.99 | FEB190849-M | MAR |
| 5 | BATMAN #69 | $3.99 | FEB190480-M | DC |
| 6 | BATMAN #68 | $3.99 | FEB190478-M | DC |
| 7 | THANOS #1 | $4.99 | FEB190810-M | MAR |
| 8 | HEROES IN CRISIS #8 | $3.99 | FEB190462-M | DC |
| 9 | WEB OF VENOM: CULT OF CARNAGE #1 | $4.99 | FEB190858-M | MAR |
| 10 | AMAZING SPIDER-MAN #20 | $3.99 | FEB190837-M | MAR |
TOP 10 COMIC BOOKS BY DOLLARS INVOICED
| | | | | |
| --- | --- | --- | --- | --- |
| RANK | DESCRIPTION | PRICE | ITEM CODE | VENDOR |
| 1 | WAR OF THE REALMS #1 | $5.99 | JAN190870-M | MAR |
| 2 | SYMBIOTE SPIDER-MAN #1 | $4.99 | FEB190822-M | MAR |
| 3 | THE BATMAN WHO LAUGHS #4 | $4.99 | FEB190484-M | DC |
| 4 | DETECTIVE COMICS #1000 | $9.99 | JAN190542-M | DC |
| 5 | WEB OF VENOM: CULT OF CARNAGE #1 | $4.99 | FEB190858-M | MAR |
| 6 | THANOS #1 | $4.99 | FEB190810-M | MAR |
| 7 | THE IMMORTAL HULK #16 | $3.99 | FEB190849-M | MAR |
| 8 | BATMAN #69 | $3.99 | FEB190480-M | DC |
| 9 | BATMAN #68 | $3.99 | FEB190478-M | DC |
| 10 | WAR OF THE REALMS #2 | $4.99 | FEB190759-M | MAR |
TOP 10 GRAPHIC NOVELS & TRADE PAPERBACKS BY UNITS SHIPPED
| | | | | |
| --- | --- | --- | --- | --- |
| RANK | DESCRIPTION | PRICE | ITEM CODE | VENDOR |
| 1 | THE MAGIC ORDER VOLUME 1 TP (MR) | $19.99 | FEB190095-M | IMA |
| 2 | VENOM BY DONNY CATES VOLUME 2 TP | $17.99 | JAN191101 | MAR |
| 3 | GIDEON FALLS VOLUME 2: ORIGINAL SINS TP (MR) | $16.99 | FEB190077 | IMA |
| 4 | THE UMBRELLA ACADEMY VOL. 1: APOCALYPSE SUITE TP | $17.99 | SEP108136 | DAR |
| 5 | CATWOMAN VOLUME 1: COPYCATS TP | $16.99 | JAN190665 | DC |
| 6 | STAR WARS VOLUME 10: ESCAPE TP | $17.99 | JAN191095 | MAR |
| 7 | BATMAN: DETECTIVE COMICS VOL. 9: DEFACE THE FACE TP | $16.99 | JAN190661 | DC |
| 8 | THE UMBRELLA ACADEMY VOL. 2: DALLAS TP | $17.99 | DEC098005 | DAR |
| 9 | UNNATURAL VOLUME 2 TP (MR) | $16.99 | FEB190120 | IMA |
| 10 | JESSICA JONES: PURPLE DAUGHTER TP | $19.99 | JAN191027 | MAR |
TOP 10 GRAPHIC NOVELS & TRADE PAPERBACKS BY DOLLARS INVOICED
| | | | | |
| --- | --- | --- | --- | --- |
| RANK | DESCRIPTION | PRICE | ITEM CODE | VENDOR |
| 1 | INFINITY WAR OMNIBUS HC | $125.00 | OCT181002 | MAR |
| 2 | THE DEATH & RETURN OF SUPERMAN OMNIBUS HC | $150.00 | SEP180566 | DC |
| 3 | THE MAGIC ORDER VOLUME 1 TP (MR) | $19.99 | FEB190095-M | IMA |
| 4 | INFINITY BY STARLIN & HICKMAN OMNIBUS HC | $125.00 | OCT181005 | MAR |
| 5 | AVENGERS: EARTH'S MIGHTIEST BOX SET SLIPCASE | $500.00 | OCT181006 | MAR |
| 6 | MARVEL MASTERWORKS: AVENGERS VOL. 19 HC | $75.00 | OCT181009-M | MAR |
| 7 | VENOM BY DONNY CATES VOLUME 2 TP | $17.99 | JAN191101 | MAR |
| 8 | PAPER GIRLS DELUXE EDITION VOLUME 2 HC | $34.99 | NOV180079 | IMA |
| 9 | GIDEON FALLS VOLUME 2: ORIGINAL SINS TP (MR) | $16.99 | FEB190077 | IMA |
| 10 | BATMAN/SUPERMAN SILVER AGE OMNIBUS VOL. 2 HC | $99.99 | SEP180539 | DC |
TOP 10 BOOKS BY UNITS SHIPPED
| | | | | |
| --- | --- | --- | --- | --- |
| RANK | DESCRIPTION | PRICE | ITEM CODE | VENDOR |
| 1 | NO GAME NO LIFE VOLUME 8 LIGHT NOVEL SC | $14.00 | DEC182289 | YEN |
| 2 | SHARE YOUR SMILE: RAINA'S GUIDE TO TELLING YOUR OWN STORY HC | $12.99 | FEB191785 | SCH |
| 3 | BLOODBORNE OFFICIAL ARTWORKS SC | $44.99 | MAR172148 | UDO |
| 4 | THE SHADOW DOUBLE NOVEL VOLUME 140 SC | $14.95 | JAN192066 | SAN |
| 5 | MARVEL ENCYCLOPEDIA HC (NEW EDITION) | $40.00 | JAN191813 | DK |
| 6 | SAMURAI PIZZA CATS OFFICIAL FAN BOOK SC | $39.99 | NOV182128 | UDO |
| 7 | THE ROAD TO MARVEL'S AVENGERS: ENDGAME: THE ART OF THE CINEMATIC UNIV HC SLIPCASE | $50.00 | JAN191086 | MAR |
| 8 | FAMILY TRAITS HC | $29.99 | DEC182218 | UDO |
| 9 | HELLBOY: THE ART OF THE MOTION PICTURE HC | $39.99 | JAN190452 | DAR |
| 10 | FLCL ARCHIVES TP | $39.99 | DEC182217 | UDO |
TOP 10 TOYS BY DOLLARS INVOICED
| | | | |
| --- | --- | --- | --- |
| RANK | DESCRIPTION | ITEM CODE | VENDOR |
| 1 | OVERWATCH: TORBJRN NENDOROID | SEP188531 | GOO |
| 2 | POP! DC HEROES: JOHN CONSTANTINE FCBD 2019 VINYL FIGURE | NOV180015 | FUN |
| 3 | BATMAN BLACK & WHITE: WHITE KNIGHT STATUE BY SEAN MURPHY | SEP180641 | DC |
| 4 | MARVEL GALLERY: SYMBIOTE SPIDER-MAN FCBD 2019 PVC STATUE | AUG188000 | DST |
| 5 | ALIENS COLONIAL MARINES: ARMORED PERSONNEL CARRIER 1/18-SCALE VEHICLE | APR182281 | DST |
| 6 | HELLRAISER 3: HELL ON EARTH: PINHEAD BISHOUJO STATUE | JUL189121 | KOT |
| 7 | SPIDER-MAN LEGENDS 6-INCH ACTION FIGURES | NOV188096 | HAS |
| 8 | DC COMICS BOMBSHELLS: BATWOMAN "AWAY UNIFORM" STATUE | SEP180642 | DC |
| 9 | JOHN WICK 2 GALLERY PVC FIGURE | JUN182313 | DST |
| 10 | DC DESIGNER SERIES: GREEN LANTERN BY IVAN REIS STATUE | SEP180631 | DC |
TOP 10 GAMES BY DOLLARS INVOICED
| | | | |
| --- | --- | --- | --- |
| RANK | DESCRIPTION | ITEM CODE | VENDOR |
| 1 | DUNGEONS & DRAGONS: STRANGER THINGS EDITION | JAN198565 | HAS |
| 2 | DC HEROCLIX REBIRTH BOOSTER BRICK | NOV182895 | NEC |
| 3 | MY HERO ACADEMIA CARD GAME | JUL183082 | SHI |
| 4 | STARFINDER RPG: CORE RULEBOOK HC | JUN173371 | PAI |
| 5 | PATHFINDER PAWNS: BESTIARY BOX | FEB168541 | PAI |
| 6 | PATHFINDER RPG: CORE RULEBOOK | JUN091729 | PAI |
| 7 | STARFINDER ADVENTURE PATH: DAWN OF FLAME PART 2 | JAN193202 | PAI |
| 8 | CREATURE CODEX HC | JUL183073 | PAI |
| 9 | CRITICAL ROLE: TAL'DOREI CAMPAIGN SETTING HC | JUN173357 | GRE |
| 10 | STARFINDER RPG: CRITICAL FUMBLE DECK | JAN193205 | PAI |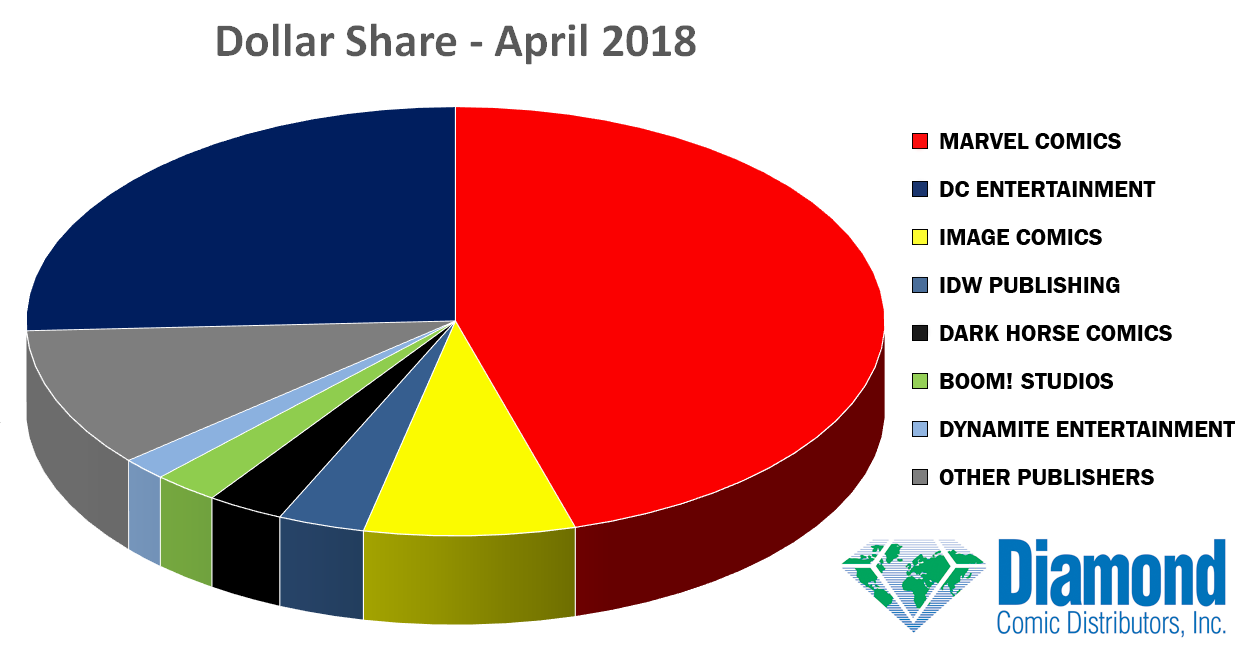 Dollar Market Share – April 2019
Unit Market Share – April 2019
Torna in alto